Torn Between Two Lovers - Mary MacGregor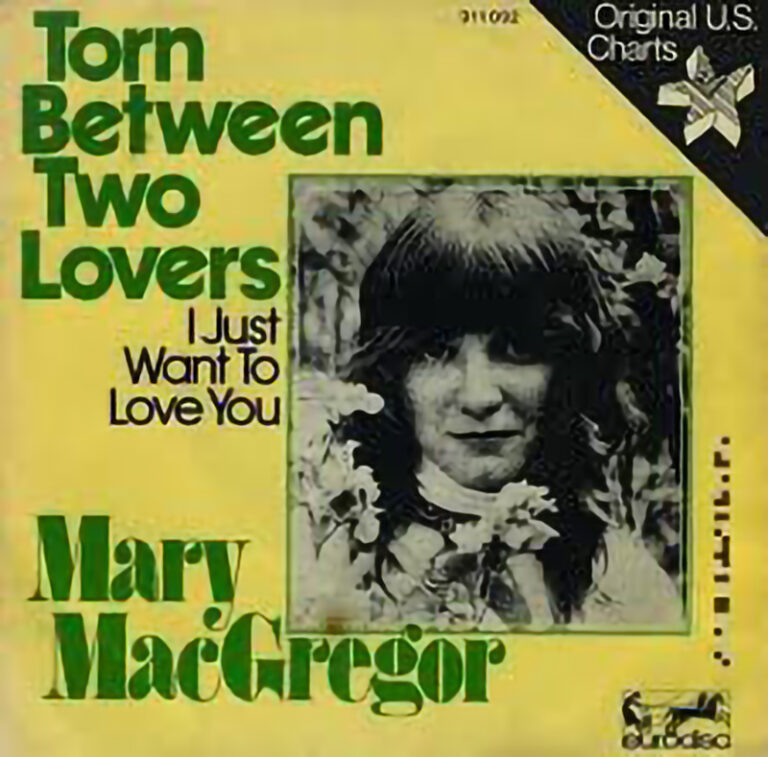 B-Side: I Just Want to Love You
From the Album: Torn Between Two Lovers
Released: November 1976
Recorded: 1976
Studio: Muscle Shoals Sound Studio in Alabama
Genre: Soft rock
Length: 3:40
Label: Ariola (Ariola America 7638)
Songwriter(s): Peter Yarrow, Phillip Jarrell
Producer(s): Peter Yarrow, Phillip Jarrell 
Mary was born in St. Paul, Minnesota, where she studied classical piano from the age of six. Within eight years, she was singing professionally with a local big band. After attending the University of Minnesota, where she continued singing with Minneapolis and St. Paul groups, Mary began touring the rest of the country with various folk, R&B, and rock bands.
It was during one of these national tours that she caught the attention of Peter Yarrow of Peter, Paul and Mary. Impressed with her double-octave range, Yarrow invited her to join him on a national tour as a backup vocalist. His next step was putting her voice on vinyl: Mary was heard singing backup on Yarrow's Love Songs album. Her blossoming vocal talent led to her first solo endeavor, produced by Yarrow, the fateful "Torn Between Two Lovers."
"I never liked the song too much, and I still don't," said Mary. "There are just some songs I like, and some I don't, and this is one of them. Peter and I had a very long relationship. We're both very emotional people, and whenever we got together it was a very volatile experience. Sometimes it was positive, sometimes negative, and on this particular song we had a lot of fights. Was it really good? Was it going to make it? We had a lot of discussions about this song.
"For me to sing anything, I have to get emotionally involved. That's what really makes it for me. I didn't like 'Torn' mostly because it was boring to sing. It's a real 'sleeper' kind of ballad. Peter thought it was a real statement, and he wanted it to happen. He wanted a woman to sing it, and he wanted that woman to be me. 
"I recorded the song in Muscle Shoals, Alabama, while standing in a bathroom. It was a room that was actually part of the studio, just sort of built-in there. They had a boom stand with a microphone on the end of it. The boom was in the studio, and the mike kind of stuck in through the door, hanging over the mirror. It was a tiny little room, but I finally worked things around so I didn't have to stare at myself singing. It's a great place. You get a lot of natural echo in bathrooms."
Mary was trembling when she recorded her big song, and not from the studio air conditioning. At the time, she'd been happily married for five years, and just the thought of being unfaithful to her husband, Don, was traumatic. But then came stardom, and the hopes, pressures, fears, and disappointments that come with it. On May 25, 1978, Mary filed for divorce, citing "irreconcilable differences." Her next release — a flop — was called "Memories."
"A lot of people are torn between two lovers," said Mary, "or have been, or will be. The single itself must have touched a lot of them, because it sold more than two million copies worldwide."
"Torn Between Two Lovers" began its rise in November 1976, finally peaking at number one in February 1977. It put Mary in the spotlight — for the moment — but ruined her career singing advertising jingles.
Living on her central California ranch where she raises horses and writes songs, Mary looked back at her moment in the spotlight. She says the song ultimately proved to be a strain — "not because I was sleeping with someone else, but because I was living with my career instead of with him. But those things happen."
"Now I'm in a dilemma because I'm too well known to return to being an anonymous singer for a bank, but I'm not well known enough to get bookings. I never thought about being a success until 'Torn.' I was trying to make a career out of doing commercials. Now I can't.
"Success is so fickle," she warned. "You're only as good as you're next hit."
Mary would never repeat the commercial success of "Torn," however she did crack the Top 40 one more time before the end of the decade with "Good Friend," which was featured on the soundtrack of the Bill Murray comedy Meatballs.