Show and Tell - Al Wilson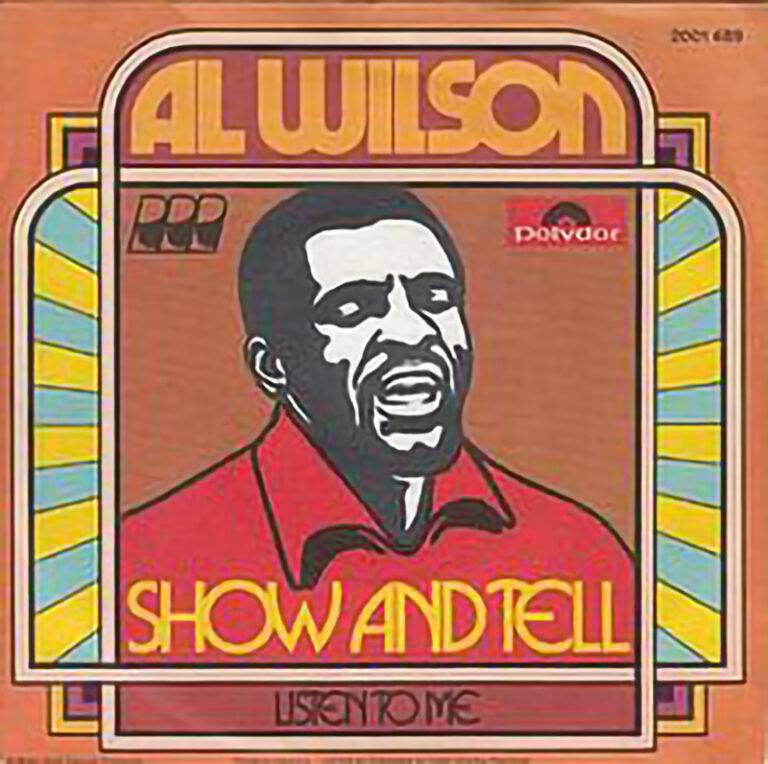 B-Side: Listen to Me
From the Album: Show and Tell
Released: August 1973
Recorded: 1973
Studio: –
Genre: Soul, pop.
Length: 3:30
Label: Rocky Road (Rocky Road 30073)
Songwriter(s): Jerry Fuller
Producer(s): Al Wilson
Al Wilson was born and raised in Meridian, Mississippi, where he acted in school plays. Later he won talent shows as a singer and took first prize in an art contest. By the age of twelve, he had earned money as a country and western singer, formed his own spiritual quartet, and was singing in the church choir.
"Our preacher never had any formal music training," said Al. "But when he laid down a beat and established the root bass, it was a thrill. No singer could miss."
As a teenager, Al moved to San Bernadino, California, where he continued to work to help support his family. Between odd jobs as a letter carrier, clerk, janitor, and laborer, he took up the drums and practiced pounding out seductive rhythms in his spare time.
After two years in the navy, where he sang with an enlisted men's combo, Al came to Los Angeles. Alone and unknown, he made the rounds of cabarets and nightclubs, singing wherever he could. One day he decided that he had to either live on his earnings as an entertainer or get out of the business.
In 1959, he joined the Jewels, by then a fast-fading R&B group. He stayed with them briefly, then moved on to the Rollers. When they broke up, he formed the Souls, his own instrumental quartet. After a while, Al began to wonder if he would ever click in the music world. He developed a stand-up comedy routine — just in case.
In 1966, Al met Marc Gordon who agreed to become his personal manager. Marc introduced the young singer to Johnny Rivers, who auditioned Al, a cappella, for the Soul City label. Al was accepted, but it took another two years for his contract to pay off. In 1968, he recorded "The Snake," which sold nearly half a million copies. Al was on his way, but sadly, he was unable to score another hit for Soul City.
Eventually, Marc Gordon formed his own label, Rocky Road Records, and Al was one of the first artists signed to that company. Al was assigned a producer, Jerry Fuller, and the two began to sift through songs, looking for appropriate material. Finally, Jerry sat down at the piano and began playing some of his own compositions. When he got to "Show and Tell," Al expressed interest. Jerry explained that he had written the song especially for Johnny Mathis and that Mathis had had an "easy listening" hit with it in 1972. Al was thrilled with the song, and was convinced that he could turn it into a monster pop record as well. Jerry agreed to give it a try.
Their finished master was released in late fall 1973 and entered the pop charts in October. On December 17, it was awarded an RIAA gold disc. In January, it reached number one. Eventually it sold more than three million copies.
For a follow-up, Al recorded another of Jerry's tunes, "Touch and Go." However, it sounded very similar to "Show and Tell" and was not a very good seller. Later in 1974, Al again ran into trouble when both he and O. C. Smith recorded versions of "The La La Peace Song." The two singles split air play and sales, with neither one really making much of an impact.
In 1976, Al tried recording again, this time for Playboy Records. He cut "I've Got a Feeling," but it, too, was only a moderate seller. He cited poor promotion as the reason and tried to get off the label. When they refused to let him go, Al decided to sit out his contract. As things turned out, Al lasted longer than Playboy Records, which folded two years later.
"I think it's very important to be on the charts, because it keeps your name alive," said Al. "But I'd rather disappear than make records for companies that don't do their job. I'm a professional, and I think people should always do their best, no matter what their job is. It's like singing. If you do a thing well, it doesn't matter if it's a ballad, soul, blues, or rock. You can reach people of many tastes, and please them all."
Al Wilson died on April 21, 2008, succumbing to kidney failure in a Fontana, Calif., hospital. He was 68.